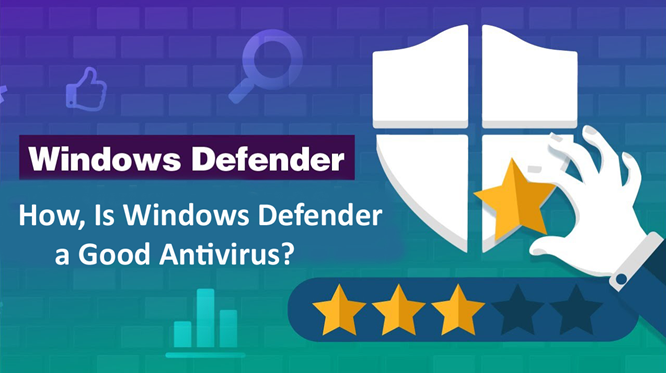 Now Windows 10 won't hassle you to install an antivirus like it earlier did with Windows 7. Ever since Windows 8 was introduced, Windows already provides a built-in free antivirus called Windows Defender. But the question arises is it really the best or even just good enough for protecting your PC?
Originally known as Microsoft Security Essentials back in the Windows 7 days (when it was available as a separate download) Window Defender is built right into Windows 10 and it's enabled by default. It automatically scans programs you open, provides an interface you can use for in-depth scans and downloads new definitions from Windows Update, etc.
Earlier for a shorter period of time, it faced certain criticism because its previous versions had fewer features and therefore people could barely consider it as an antivirus. Window Defender scored at the bottom of most antivirus tests during those times. But it has seriously improved itself since it bounced back, and now IT provides very good protection and became one of the best free antiviruses in its segment.
What exactly is a Window Defender?
Formerly called Microsoft AntiSpyware, the Microsoft Defender is Microsoft's proprietary anti-malware tool that is by default a protection program that provides an on-demand scan for malicious programs, pretty good firewall protection, and can download new virus definitions through Windows Updates.
First released officially for the public on October 24, 2006, Microsoft Window Defender is based on Giant AntiSpyware from the GIANT Company that Microsoft acquired in 2004.
Basically, it offers a lot in terms of protection, performance, and usability; making it an attractive free option for Windows 10 users who are looking for a bare-bones antivirus that works.
But to exactly rate how good a Windows Defender is? Then the answer to this totally depends on the user's expectations, choices, and priorities. However, in general, let's have a general overview of Windows Defender Pros and Cons:
Pros:
In-Built into Windows 10.
Easy access to Windows security features
Simple ransomware protection.
Always on if no other antivirus is present.
Cons:
No protection from lower-risk malware.
Poor malicious URL blocking.
It is susceptible to user error.
It slows down the installation of applications
The number of extra features is limited and,
Mixed results from independent test labs
Window Defender Various Test Results: How good is Window Defender?
Only discussing Window Defender won't get us anywhere. It is necessary to know how it works in comparison to other antivirus programs. For that, in the market, there are several monthly tests conducted to compare antivirus software.
For example, there are AV tests and AV comparatives tests. While according to AV comparatives, Windows Defender has continuously improved itself in blocking "user-dependent" malware; AV-Tests shows that Windows Defender offers its user's system a 99.9 percent protection against the 98.8 percent of the zero-day malware attacks.
Overall keeping aside small hiccups, historical data on both AV-Comparatives and AV-Test depicts a remarkable improvement in Windows Defender's performance over the years.
Window Defender Limitations:
However, Windows Defender has improved its virus detection rate in recent years; it's still not without limitations.
While also providing some web browser and email protection, Windows Defender only targets viruses. It doesn't catch other threats such as ransomware, and all browser exploits.
To conclude this in short, Window Defender is good for one form of malware, but it leaves users vulnerable to many others.
Also, Windows Defender lacks a centralized logging and alerting system such as there is no log of scans to tell you what was found or when your last scan occurred, basically you cannot determine it.
And, in return, the result is that users are not always aware of new threats or protected against them, which is not really good.
Windows Defender Security Center
Windows Defender security center is an application that offers a collective experience to view and controls it's status and security features, such as firewall, antivirus, performance monitor, and other products, etc.
To get started with the Windows Defender Security Center application, all you need to perform is these 2 steps:
Firstly, go to the security center app to open it by clicking the shield icon in the taskbar or by searching the start menu for the Defender.
Then clicking the shield icon(Virus & threat protection tile) on the left menu bar
There you can able to view the status of all the security features and it even alerts you to keep
Your PC is secure.
Windows Defender Windows 10 Reviews:
It keeps your computer safe by offering built-in antivirus protection in Windows 10.
It is a premium antivirus with a pretty attractive free plan.
It provides excellent malware and spyware protection which is not typically offered by other free antivirus programs.
Also, its performance is consistently ranked among one of the best in all safety and security tests.
The only issue with Window Defender is that it doesn't update automatically most of the time, so you have to manually update it.
Final Verdict:
However, Window Defender is vulnerable to user error, the scores in the tests are mixed, and the number of its extra features is also limited, etc. but then also you need not have to worry about any malware, spyware and cyber threats related to your PC and its data if you have Windows Defender- a well-proven viable antivirus.
Yes while using Window Defender, one can admit that peace of mind has never been this easy earlier.