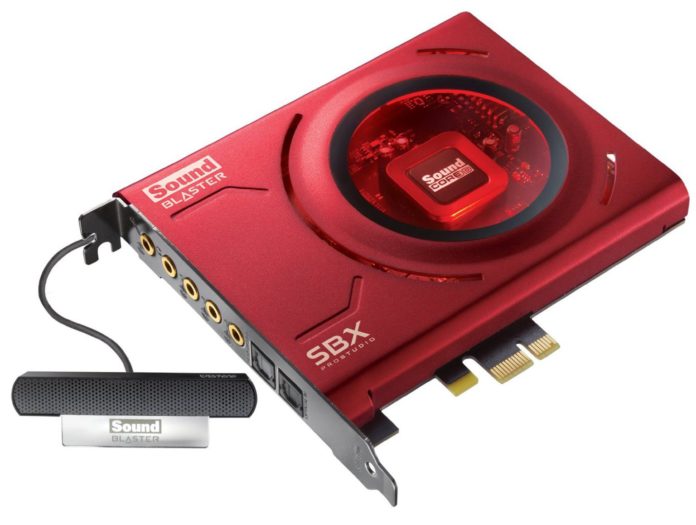 A sound card may seem like an unimportant item in a PC setup, but there are cases where this component gains importance. These cases can be in a gaming tower, in a computer for audio editing or simply a PC for enthusiasts.
That's why you should follow a series of tips in this guide to help you find the best sound card for your PC that offers you the best experience, be it for games or to watch movies or for more advanced tasks.
Tips when choosing a sound card
Surround Sound
Many sound cards offer to surround sound support. In the case of gaming, this means that you can hear everything that happens in your environment, such as hearing the footsteps of an enemy or listening to their weapon reloading in a first-person game. For movies, you'll have a cinematic surround sound experience. Find a sound card that offers surround sound support if you like the experience of watching movies or to have an advantage over your enemies in games.
Response frequency
Frequency response is the idea of ​​delivering clear, crisp audio to the listener. The frequency response value comes in a range form. The ideal frequency response that is the audible range for the human ear is 20Hz – 20 KHz. When looking to buy a new sound card, make sure the sound card provides a frequency range that is greater than these values.
Total harmonic distortion (THD)
The total harmonic distortion of a sound card represents the amount of distortion that occurs. Some sound cards have a type of shield to protect it from audio distortions from other devices located on the computer. An example of a sound card that uses this type of protection is the ASUS Xonar Essence STX that uses the EMI shield.
Signal / noise ratio
The SNR measures how much the desired signal exists at the audio output over the power of the unwanted noise in the audio. The higher the SNR value, measured in decibels (dB), the better the quality of the audio produced with less background noise. When looking for a sound card, be sure to buy one with an SNR value of more than 105 dB minimum.
Ambient Audio Extensions (EAX)
This is something that is less used but is usually included in many models. You are especially interested if you are a gamer since many games use these EAX audio extensions to provide you with real surround sound effects, making you feel completely immersed in the game.
Best sound cards
Asus Essence STX II
This sound card is the most expensive of the models we have collected, and it is the best sound card for quality sound lovers. If you like high definition sound and price is not an issue, the ASUS Essence STX II is for you. It is a PCI-e sound card that comes with a Hi-Fi (Hi-Fi) headphone amplifier, which ensures enhanced headphone audio up to 600 ohms. In addition, it manages to achieve a high SNR of 124 dB, which guarantees high-quality sound without unwanted noise. Also, this sound card comes with an EMI display to avoid audio distortion.
Specs:
Signal to noise ratio (SNR) 124dB
Total harmonic distortion (THD): 0.0003%
Frequency range: 10 – 90,000 Hz
Creative Sound Blaster ZxR
The Sound Blaster ZxR is a model made from top-quality components that deliver top-quality sound and this card includes the new SoundCore 3D DSP that was released by Creative to replace older X-fi processors. This new quad-core chip delivers high-quality sound within the reach of few models. It also has support for EAX, OpenAL, and THX. The card is also compatible with Dolby Digital Live and DTS-Connect.
The ZXR contains 2 Sound Core processors, using one for the motherboard features and the second is strictly for handling recording functions. It is certainly a great option and more considering Creative's experience in the field of high-quality sound.
Specs:
Signal to noise ratio (SNR) 124dB
Highest reproduction quality
24-bit / 192kHz (Stereo Direct Mode)
24-bit / 96kHz (5.1)
Frequency response 100Hz ~ 20kHz
Sensitivity -37dB
Asus Xonar Phoebus Solo
An intermediate model between the previous two, with a good value for money. The specifications are very similar although the SNR it achieves is 118 dB, slightly lower than the previous ones. It is undoubtedly a good model that will delight demanding gamers.
Specs:
Signal to noise ratio: 118 dB
Total harmonic distortion (THD): 0.0001%
Processor: C-Media CMI8888DHT
Integrated 600-ohm headphone amplifier
Includes electromagnetic protection like the previous models
Creative Sound Blaster Z
Even though the Sound Blaster Z is the lowest-end Sound Blaster Z series sound card, it is still a very high-quality product with features like a 116 dB SNR, a 600-ohm headphone amplifier, a 24-bit resolution, a 192kHz sampling rate, and of course Creative's 3D Sound Core 3D audio processor. Saim deals provide reviews about all the stuff related to computers so if you have any query you must check and get the best information.
The entire card is wrapped in a metal cover, which acts as an EMI shield to reduce electrical interference from the rest of the system. It also includes a sound blaster microphone specially designed for gaming.
Specs:
Signal to noise ratio: 116 dB
24-bit analog-to-digital conversion of analog inputs with a sampling rate of up to 96 kHz
24-bit digital-to-analog conversion of digital sources with a sampling rate of up to 192 kHz to analog outputs
16- and 24-bit recording sample rates: 8; 11,025; 16; 22.05; 24; 32; 44.1; 48 and 96 kHz
16- and 24-bit playback sample rates: 8; 11,025; 16; 22.05; 24; 32 ;, 44.1; 48; 96 and 192 kHz
Asus Xonar DGX
As a model with the best value for money, we have the Asus Xonar DGX, which has 7.1 surround sound and high-end specifications that will allow you to play and listen to high-quality music without having to reach such prohibitive prices.
Specs:
Signal to noise ratio: 107 dB
Audio Processor: ASUS AV66 High-Performance Sound Processor (Max. 192KHz / 24bit)
Analog output resolution and sampling rate : 44.1K / 48K / 96K / 192KHz @ 16bit / 24bit