WordPress is an open-source content management system (CMS) that can be used for building websites and blogs. WordPress website hosting service is an ideally designed, created, developed and improved for WordPress CMS based websites.
This type of hosting service comes along with excellent server speed, automatic WordPress updates, higher security, dedicated technical and customer support solution at a very reasonable price point.
You will get all the required and necessary features that you need to manage your fully-functional website developed using WordPress CMS with WordPress hosting India.
WordPress website hosting service is just an enhanced version of shared hosting service, it is mainly a traditional form of shared hosting service, like shared hosting, and it takes hosting resources like server space, data transfer/bandwidth, CPU power and other required resources from a shared server.
Benefits of WordPress Hosting:
Dedicated Technical/Customer Support: Basically, WordPress hosting is given by some best web hosting organizations and it comes with world-class 24/7 available customer/technical support by specialists and most experienced people to solve any type of issues or troubles related to your website.
Maximum Server Speed and Uptime: Server speed and uptime is the most crucial aspect of any website and it is also one of the important factors that distinguish WordPress hosting providers from other web hosting service providers.
Most of the web hosting providers offer an outstanding uptime of 99.9% to improve the loading speed of your website.
Regular Backups Facility: In the WordPress hosting service, you will get a regular backup option. You can set the backup interval of your website either daily/weekly. The backup option is very useful in the situation when something goes wrong with your website. Then you can easily recover your files and data of your website with backup. An issue may occur anytime so, you need to be ready for this.
High Security: Security is another important concern with the shared web hosting service because in this hosting, there are multiple websites hosted on a single physical server. If any website gets high traffic or high resource consumption then it can affect the performance and reliability of other websites. Therefore, in WordPress based hosting service, you will get an enhanced security service including highly configured hardware, applications, software and at the same time improved security features.
Which is the Best WordPress Hosting provider for Me?
Looking for the best and affordable WordPress hosting for your website then you are at the right place. You can select it as per your needs and requirements of your website and business. Here, I have listed some of the factors that you need to consider while selecting the best WordPress Hosting provider for your website:
Excellent Support
Affordable Price
Resource Scalability
Higher Security
Server Speed
Easy to Use
If you are looking for such a web hosting provider who will fulfill all these above-mentioned features and requirements for your website, then I recommend you to go with one of the best hosting providers – MilesWeb.
MilesWeb is one of the leading and fast-growing web hosting companies in India which offers services related to web hosting, email hosting, backup, website protection, etc. Their managed WordPress hosting is an excellent hosting service for bloggers, web developers, WooCommerce stores, web design agencies, and digital marketers.
They provide best in class hosting service and support to their customers at a very affordable price as it is their top priority.
MilesWeb also offers a lot of other hosting services like affordable shared hosting, cheap reseller hosting, DigitalOcean & AWS cloud, VPS hosting, dedicated hosting, SSL certificate, etc.
Managed WordPress Hosting plans: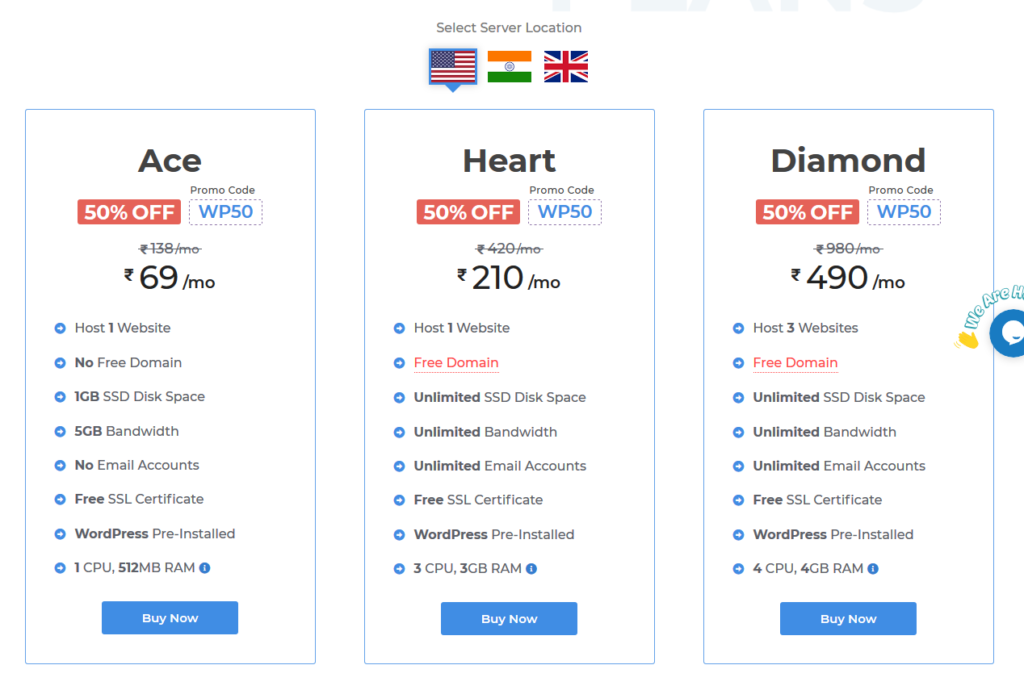 Why MilesWeb Is Perfect For Your Website:
Offers Fully Managed WordPress
They are the best in their industry. Their highly configured hosting environment will take care of heavy lifting server requirements so that you focus on developing your business. Their highly qualified support team can handle the technical stuff, WordPress updates, server optimization, tweaking PHP versions and monitoring.
Provided Free WordPress Migration
They have an in-house technical support team that is available for 24/7 to manage the website migration task as per your suitable timing. Very carefully they migrate all your website data from your present hosting provider to their highly optimized server and even don't take charge for this means it's free of charge.
A best affordable WordPress hosting plan with complete features:
Free Domain Name: MilesWeb offers free domain name with their Heart and Diamond WordPress hosting plans. So, you get a more cost-effective hosting plan than any other hosting provider.
Automatic WordPress Updates: In their managed WordPress hosting service, you get an updated WordPress application so, you don't need to worry about the updates. The software at the backend continuously checks all the updates and required plugins of your WordPress website and makes it an updated WordPress website.
Server Level Caching: The built-in, all-in-one site acceleration plugins, Litespeed cache provides an exclusive server-level cache and a collection of optimization features. This feature can be enabled or disabled depending on your requirements; you can do it easily with your managed WordPress interface. LiteSpeed reduces the task of managing the complex caching plugins and also accelerates your WordPress site.
Fast SSD Storage: Their all WordPress hosting plans come along with sufficient storage as per your website needs and requirements. They provide modern Solid State Drive storage. It helps your website to get up to 200% better performance as compared to traditional disk drives.
Free SSL Certificate: Their security experts continuously observe your website to detect any vulnerability related to WordPress. Let's Encrypt SSL certificate is included in each WordPress hosting plan without any additional charges. So it helps your website to keep the data safely encrypted every time it is transmitted between you and your site visitors. It reduces your efforts to search and configure an additional SSL certificate on the website.
WordPress Preconfigured: MilesWeb offers preconfigured WordPress in its hosting packages. It makes website management very easy. WordPress installation is done with various certified themes and plugins so it helps in reducing the efforts to set up and configure WordPress.
Fast Provisioning: They provide robust, ultra-fast and scalable hosting service for your WordPress sites. They also offer features like LiteSpeed server caching, HTTP/2, PHP 7 and SSD hardware that helps you to offer blazing-fast website speed.
Secure Email: They provide their WordPress hosting plans with email accounts and also allow you to create multiple email accounts.
MilesWeb Priorities
MilesWeb offers different WordPress hosting plans with server locations in India, UK, and the US. They offer hosting packages of WordPress hosting with free version of Jetpack, so you can choose to host packages and server locations as per your convenience and requirement.
Final Words:
Last but not least, with the above article now you may have a clear idea about managed WordPress hosting and which type of service you need to select for your website. MilesWeb offers the best-managed WordPress hosting provider in India, UK & the US, so I would recommend you to just try them at least once so you will know how excellent and a good type of service they offer to their customers.