Planning to build your ecommerce store using Magento? That's great!
When it comes to eCommerce, Magento is a robust solution. Magento is a platform on which several developers and store owners depend on in order to sell their products online. If you are one of them, you might have done the research on different Magento hosting solutions for your business.
Though Magento doesn't require anything unexpected but it isn't possible for every web hosting provider to run a Magento installation properly. So, you need to consider special requirements while selecting a Magneto hosting provider for your website.
In this article, you will get to check the factors, tips and ideas to select a Magento hosting provider as well as the Magento hosting provider of India.
Starting with Magento Hosting
At first it is important to focus on important and basic things. Without considering the size of your Magento store, your web hosting provider should provide you the below features:
Security
Security is a major factor while selecting any web hosting provider. So, when selecting a Magento hosting plan, check if it comprises of security features. It is important to harden and secure your website so that hackers can't access it. But server's security is completely dependent on your Magento hosting provider.
Your hosting provider should make sure that the server's software is always updated which includes operating system and control panels. Additionally, there should also be DDoS protection offered plus a decent firewall and anti-malware strategy. While starting you can question your web hosting provider to check their security attempts:
Do they have a server-side virus scanner?
Do they have DDoS protection in place? If yes, what it its level –hardware or software?
Do they provide firewalls and Magento hosting related security features? They should offer youthe ability to turn off or on specific PHP modules.
Speed
The next important factor is speed asno one likes a slow website. There is a possibility that Magento websites can run a bit slower, if they are not properly optimized. This can lead to questioning of website configuration.Select a web hosting provider that takes extra care to run modern infrastructure to make sure that their hardware is never overloaded or slow to respond.
Ping the server IP in question or perform a traceroute to it for checking if there are any latency issues that might affect page load times. Ask your Magento hosting provider about any server-side caching mechanism they use. For Magento hosting environments, memCache or xCache are equally popular.
Compatibility
Check the Magento hosting requirements and compare the same with the features offered by your web hosting provider. Also, check for PCI compliance in order to ensure that there are no unwanted compliance issues on your Magento store.
Also, ensure that your hosting provider is using PHP 7.x instead of PHP 5.x. If you are using Magento 2.0 for your store then it highly recommends the use of PHP 7.0. Ensure that your Magento hosting provider meets the latest compatibility guidelines.
Additionally, your web hosting provider should offer MySQL 5.6 or higher, Apache 2.x and PHP 7.0 or higher. Note that if the servers don't run Apache and rely on NGINX or LiteSpeed, the requirements are required to be adjusted accordingly.
Technical Support
Remember the internet isn't going on holidays at any time.So, even the technical support shouldn't as things often tend to go wrong when you least expect them to. Suppose your website goes offline on a Saturday night or Christmas Eve. It is going to put you in trouble, right? So, find some decent quality of technical support from your Magento hosting provider. Make sure that technical support is always accessible.
Let's check if the India's best Magento hosting provider offers you all these features.
MilesWeb: Introduction
MilesWeb started offering their web hosting services in 2012 and have helped many businesses to make their name in the online world. You will find them offering Linux and Windows shared, dedicated, managed VPS, Cpanel and Plesk reseller, WordPress cloud hosting, DigitalOcean, and Amazon (AWS) cloud and other application hosting services.
Apart from this, they also offer domain registration, G Suite, SpamExperts, Office 365 and SSL certificates. They offer a free SSL certificate to all the websites hosted on their server.
Magento Hosting Plans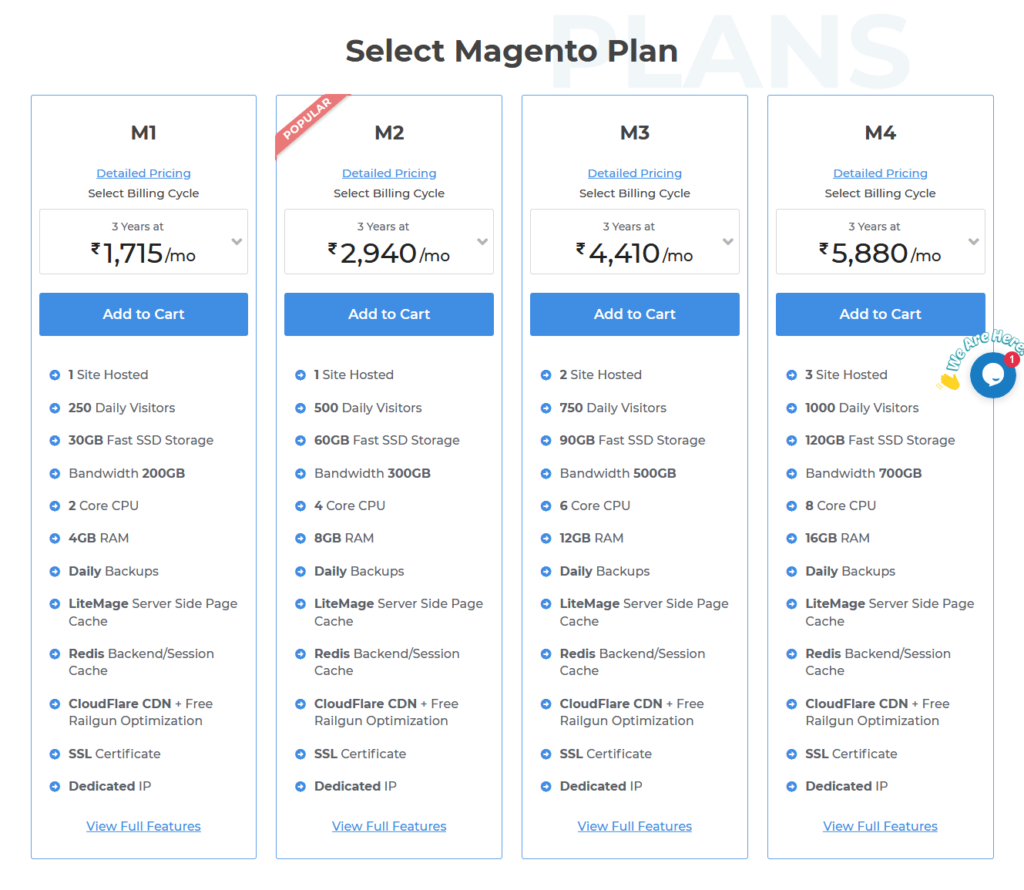 Magento Hosting Features
Their Magento hosting plans are based on LiteSpeed plus LiteMage. Due to this, the users can experience superior website performance.
Redis Backend & Session Cache: Your Magneto performance can be improved further with Redis as an in-memory backend and session cache. Redis further accelerates Magento backend, add to cart as well as checkout.
Optimized Server: Due to Magento's power and extensive features, it becomes resource intensive. Their servers are optimized to offer swift and efficient functioning of your store.
CloudFlare CDN + Railgun: All the Magento hosting plans come with the optimization CloudFlare's CDN and Railgun. Since they have more than 100 datacenters worldwide, your Magento store will run at faster load speed.
Free Magento Installation: Since Magento is free to install, it can be installed several times without any additional cost. You can select the desired hosting package with the free Magento installation.
Magento Consultancy: Their experts help you timely and recommend you tips for growing your eCommerce business. They offer help on upgrades, suggest plugins, and also help you with the database related issues.